Help Prevent Mail Theft
Help prevent mail theft: Please be sure that your ASU Post Office Box is locked each time after you check your mail. Turning the combination dial to the left after closing your box is the only way to do this. If you do not turn the dial to the left, your box will be accessible to anyone.
Remember--sending cash through the mail is never a good idea. Use a check or Postal Money Order instead.
Attention Students!
Due to Post Offivce and Wellness Center renovations, mailboxes in the ranges listed here have been deactivated and will no longer be used for mail delivery.
05001 to 08916
20859 to 21518
21600 to 22476
Any student who lives on campus for Spring Semester 2016 and had a mailbox in the ranges listed above has been reassigned to a mailbox in the 09423 to 18761 range.
All students who are not living on campus for Spring Semester 2016 have been removed from their mailbox and will have to log into their AppalNET account and opt-in in order to have a mailbox. ***There will be a $41.00 per semester fee assessed to the student's account if you opt-in for a mailbox.*** The mailbox assigned to you when opting in will not be the same mailbox you previously had. The mailbox number will show in your AppalNET account the next working day.
Any student living on campus for Spring Semester 2016 who previously had a mailbox in the 09423 to 18761 range should still be assigned the same mailbox.
Before checking your mailbox, please verify your mailbox number by logging into your AppalNET account and looking at the information in your personal information section.
***If you no longer have a mailbox here and do not opt-in, then you should provide the University Post Office with a forwarding address. Make sure to notify correspondents of new mailing address.***
If you find mail that does not belong to you in your mailbox, please notify the clerks at the Post Office window. If you are checking your mailbox when the window is closed, please place any mail that does not belong to you back in the box and report it as soon as possible.
Taking any mail that does not belong to you is illegal under Federal Law.
Check Your Box Frequently
The University may rely on student boxes for correspondence; therefore. all students who have an ASU box should check their boxes on a regular basis. This will also prevent the excessive accumulation of mail.
If a situation arises where the accumulation of mail is a necessity, then specific arrangements must be made with the Mail Center Manager prior to the time period in which mail would need to be held. Students must check their own boxes - University Post Office employees may not be taken away from other duties to check student boxes for mail and/or packages unless extenuating circumstances require that they do so.
Any U.S. or intercampus mail that remains unclaimed in a box for a period of thirty (30) days may be removed from the box, marked as unclaimed mail, and returned to the sender.
To prevent mail theft students should firmly close their box door and turn the combination dial several times to relock the box. Failure to do this will leave their box unsecured and easily accessible to anyone. Students should advise correspondents to refrain from sending cash through the mail – use checks or money orders instead.

Students receiving newspapers should be especially careful to check their boxes on a regular basis. Due to the restrictive size of student boxes and the inherent bulk of most newspapers, we can usually place only two (2) newspapers in a box at any one time. If a box already has two newspapers in it our policy is to remove the oldest issue and replace it with the most current issue. Old newspapers will then be sent to the University recycling center on a regular basis.
Address Format Requirements
Address format requirements for mail sent to student boxes are provided in the example below:
John L. Smith
ASU Box 00000
Boone, NC 28608
Please provide the student's real name, both first name and surname (no nicknames). Doing so will help to ensure the proper and timely delivery of student mail. Providing a full return address (including street address, zip code, etc.) will ensure that the mail piece can be properly returned if undeliverable for any reason.
Hours of Operation
The Main Window (828) 262-6263 is open from 9:00 a.m. - 4:00 p.m., Monday - Friday.
All mail sent to a student box from anyone other than a University department or organization (club) requires regular first class postage for delivery. Students may send mail via intercampus mail to University departments and organizations free of charge. All organizations must be approved by the University and maintain a club mailbox in order to send and receive intercampus mail free of charge.
Services Provided
The University Post Office operates as a functional United States Postal Service Contract Station and offers most of the services available at any regular post office. Services provided are available through our main window and include:
Postage sales (stamps and stamped envelopes)
Certified, Insured, Registered, and Express mail
Priority mail (Priority Mail envelopes & boxes are available)
International airmail services
Delivery Confirmation, Signature Confirmation, Return Receipt
C.O.D.
Passport Application Services
Services not available through the University Post office include:
Money orders
Postal insurance claims
International Express Mail
The University Post Office currently does not stock items such as manila envelopes, padded envelopes, or bubble wrap. These items are available at the University Bookstore.

All services provided by the University Post Office may be paid for at the time in cash or with a credit card, debit card, or Appalachian Express Account. Personal checks are not accepted unless the individual is a faculty or staff member.
Student Packages - USPS and UPS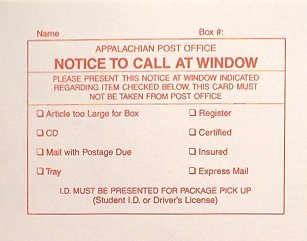 Any parcels, large pieces of mail, or other item that cannot be placed in a student's box will be placed on the package rack to await pickup. A notice to call at the main window (see below) will then be placed in the student's box. The student must then bring the notice along with either a student I.D. card or driver's license to the main window during its hours (9:00am-4:00pm Mon-Fri) of operation to pick up their package. No other form of identification will be accepted for package pickup. Packages will NOT be released unless a valid form of I.D. is presented. The I.D. must be that of the person to whom the package is addressed.

The University Post Office delivers United States Postal Service (USPS), United Parcel Service (UPS) and intercampus mail only. The University Post Office does not accept delivery of packages shipped via Federal Express (FedEx), DHL, or other private delivery companies. (Some delivery companies require a street address for delivery and will not deliver to a post office box.) Please note street addresses for campus buildings. This page includes residence halls (near the bottom of the page). If you are having items sent by FedEX, UPS, or carrier other than the United States Postal Service, and you want it delivered to a dorm address, then see instructions at http://housing.appstate.edu/pagesmith/36.
Delivery of Registered, Express, Certified, Insured, C.O.D., and postage due mail will follow the same procedures as that of package delivery. A notice to call at the main window will be placed in the student's box, and a valid I.D. will be needed in order for the student to claim the item.

Students wishing to refuse an item for any reason may return the package to the sender free of charge as long as the package has not been opened. If the package has been opened, then the student must pay the amount of postage that is required to return the package to the sender.
Mailbox Numbers and Combinations
Customer Service Window - (828) 262-6261
All boxes at the University Post Office are accessed via a combination-style lock. Students are encouraged to keep their combinations confidential at all times. Students may obtain their mailbox number and combination by logging in to their Appalnet account and clicking on self service, then choosing the Personal Information tab. Then select "View Addresses and Telephone Numbers". Lost or forgotten combinations and/or box numbers may be replaced in person at the Customer Service window during its regularly scheduled operating hours (9:45am-11:45am & 2:00pm-4:00pm Monday-Friday). Combinations may be obtained in person at the Customer Service window - they may not be given out by telephone, fax, or e-mail. A valid form of I.D. (student I.D. or driver's license) must be presented in order for students to replace their combinations. The I.D. must be that of the person to whom the box is assigned.