Intercampus Mail - Student Boxes
All mailings going to student boxes via intercampus mail must be accompanied by a completed PO form 16 (blue slip - see example below). Please include the department of origin, your university fund number, and the total number of pieces sent. Departments must also indicate a course of action for the University Post Office to take should any mail piece prove undeliverable. This is accomplished by checking the appropriate area on the blue slip. All blue slips must be signed and dated appropriately.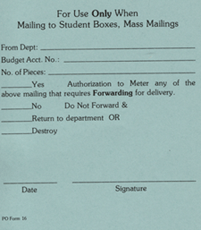 All mailings must have a complete university return address. All mailings must be placed in box number order or they will be returned to your department for proper handling.
If intercampus mail is undeliverable it will be handled in the manner indicated on the blue slip. Mail is considered undeliverable to a box for any of three reasons: the student is having his or her mail forwarded (box temporarily closed), the box has been closed, or the name and/or box number on the mail piece is incorrect.
The following codes are used to indicate the reason for mail being undeliverable and will be written on the returned pieces of mail:
Forwarding Order: "T" (Temporary Forwarding)
Box Closed: "C"
Wrong Name and/or Number: "WN"